David Sera headed towards last weekends final round of the Australian Kart Championship leading the KZ2 title race at the Go-Kart Club of Victoria, Port Melbourne on September 23-25. The Melbourne based racer, driving his own brand of Deadly Karts was able to take home a second place finish in the final which was good enough to secure an 18th Australian title.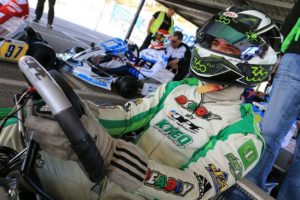 "Our preparation heading into the weekend was excellent. We did our homework leading up to the race testing two different chassis designs and had our fellow DPE driver Aaron Cameron there to benchmark against."
Having being inside the top three for most of Friday's practice sessions, Sera was confident leading into qualifying on Saturday morning. Sera set the fast times early on in qualifying, before making some critical mistakes whilst other drivers maximised their new tyres. The end result would be the fourth fastest time and this grid position for the heat races.
The 360fly backed driver was able to record an opening heat race victory followed by a second place giving Sera confidence leading into the remaining three races on Sunday.
"Today couldn't have gone much better for us. Although we weren't able to put the kart on the front row, we extended our championship lead which is good news!"
Sundays opening heat race was on a drying circuit with overnight rain, where Sera jumped into second position on the opening laps before contact with championship combatant Marijn Kremers forced him wide, losing positions & ultimately finishing in sixth position. The last heat race saw Sera come home behind DPE team mate in third place giving him enough points to secure his 18th Australian championship.
"Although we were a little disappointed not to have the speed to challenge for the win, we done enough to seal the championship. Now we can go race the final with no stress about on track positions and put our best foot forward to win the last race of the season."
Sharing the front row of the final race with Aaron Cameron, Sera got a measly start to fall back to third position on the opening couple of corners. Sera was able to then put some pressure on Jonathan Mangos and make his way past into second position and set his sights on Cameron who had opened up a two second lead. Whilst matching times with Cameron, Sera wasn't able to make any inroads and at the end of the race finishing second to round off a highly successful weekend.
"I'm over the moon! We've had some adversity at times this year and to now know we've got the championship is overwhelming. I can't thank DPE & Darren Hossack for their continued support. None of this would be possible without them." Said an elated Sera.
Sera has two races left for 2016; the Race of Stars on the Gold Coast on October 14-16 and the SuperNats in Las Vegas, Nevada on November 16-20.