The 2019 South Australian Titles have been run and won with the Sera Driver Development team securing a pair of second place finishes at the Southern Go-Kart Club in Bolivar.
Marcus Pisani got the team off to a great start securing pole position in KA4 Light before recording a trio of second place finishes in the heat races on Saturday. Sunday morning greeted the drivers with a wet circuit, where Pisani was able to maintain his record of second place finishes to give himself an outside starting position for the all important 21 lap final. Once the green lights went out, Pisani tracked the leading driver for his every move and was on his tail until half race distance. From that point on he wasn't able to maintain the leader's pace and had to settle for a gallant second place.
"We had good pace in qualifying and the heat races, but once I was forced to changed to new rear tyres from delamination it wrecked the balance of the kart. I'm still happy to take a podium but I also feel like we had a good opportunity to win my first state title this weekend" Said Pisani.
X30 saw David Sera return to competitive competition where he was able to settle right back into his Sera Kart to post the second fastest time in qualifying right in front of cousin James. After gaining the lead at the start of the opening heat race, Sera went unchallenged to record a comfortable win. Heat two saw Sera drop to third on the opening laps behind cousin James and local driver Jacob Dowson, but was able to take advantage of a mistake from James then pass Dowson for the lead to claim two heat wins from two starts. The final heat race on Sunday was the closest race of the day with Dave coming out on top over cousin James who was right on his tail.
Sunday saw the two Sera cousins start on the front row, but after not gaining a start after three attempts the officials elected to hand David a penalty flag for a judged jump start. The penalty of 10 seconds wrecked Sera's perfect start to the weekend giving him a 9th place finish but not changing the grid for the final.
The 21 lap final saw Sera jump to the lead and maintain that until lap 7 when recent AKC round winner Jaiden Pope found a way past Sera who wasn't able to match him going on to claim second place at his first Australian start in ten months.
"I'm happy and annoyed to take home second. Before the weekend I would've been excited to take the weekend, we had, but I feel I gave myself a chance to win but wasn't able to grasp it. It was a lot of fun to be back behind the wheel of a kart again." Said Sera.
SDD was well represented in Cadet 9 with three drivers Ewan Anderson, William Calleja and Riley Harrison all fighting it out similar to last weekend in Horsham. The trio was always in close proximity qualifying 3rd (Calleja), fourth (Anderson) and fifth (Harrison). Harrison was the pick of the trio off the start line and would always find his way into the top 3 trying to keep his spot. Heat 1 results saw Harrison (3), Anderson (4) and Calleja (5) near inseparable crossing the line within half a second of each other. Heat two was much the same with all three fighting against each other this time it went Calleja P3, Harrison P4 and Anderson P5. The final heat race Calleja once again got the wood over his teammates with a third place, Anderson close behind in fourth and Harrison making a mistake dropping him to sixth.
With the track being damp on Sunday morning, all the drivers faced tough conditions being on slicks on a drying circuit. Anderson used his more experience to finish in third place with Calleja slipping to fourth after a late race spin and Harrison right behind him in fifth.
The final saw Calleja clear out in third and looking comfortable to claim his first state championship podium, but his right rear tyre fell off coming onto the straight ruining any chances he had. Anderson took advantage to take out third place and Harrison holding on for fourth after a gruelling 21 laps.
Miley Miller had a disappointing qualifying where we placed a wet setup on her kart with a drying circuit. This didn't show the true capabilities of the kart ending in 12th place. From there Miley drove with determination carving her way through the field to finish 6th in the opening heat setting some fastest laps along the way. An opening turn mistake saw Miller fall to the tail of the field in heat two, which made things hard to really make up positions. Fortunately for Miley she found her aggression from heat one to maintain a twelfth-place finish. The final heat of the day saw Miller start from grid nine, where she was able to pick up a few spots on the opening laps to end the day in 5th place her best result of the day.
Sunday saw a change of fortune for young Miley who was caught up in an opening corner spin causing a DNF and dropping her to ninth for the final. With nothing to lose in the 21-lap final Miley again got caught out in a first corner crash, but luckily this time she was able to keep going, although dropping back to 16th place. Not giving up and with a fast kart underneath her, Miller was able to cross the line in 9th after a big recovery. Once again Miley was lapping as quick as the leading driver showing the progression, she has shown over the last five months.
A special mention to two drivers taking podiums who SDD have coached throughout 2019, Peter Bouzinelos taking out his first Cadet 12 State Championship with a spirited drive and Riley Blaxell taking second place in Cadet 9.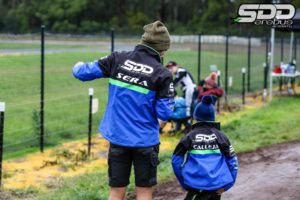 We would like to congratulate all our drivers for the big effort they put in this weekend and look ahead to our next race event at the Junior Sprint Classic in Seymour, Victoria on October 6th & 7th.