As drivers embark on the final round of the Australian Kart Championships at the Go-Kart Club of Victoria on September 23-25, Melbourne's David Sera looks to re-write his own record of National titles at the event.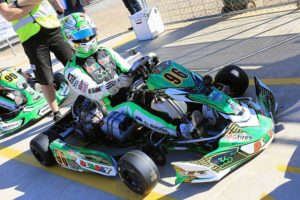 Sera currently has seventeen titles which dates back to 1995 when he first started and victory at the final round at Todd Road will make it number eighteen. Sera currently leads the KZ2 championship by 23 points over Patrizicorse teammates Chris Hays and Marjin Kremers with young Canberra driver Joshua Fife 43 points adrift in fourth.
"Heading into the final round of the AKC, I'm really looking forward to competing at a circuit which I have done endless amount of racing laps around and won numerous titles at. Todd Road has a special place within me, it's only ten minutes from where I live and we've conducted a lot of our chassis development through DPE Kart Technology there in the past."
Having dominated the opening two rounds of the championship at Dubbo, NSW and Puckapunyal, VIC, Sera has toiled away at the last two rounds struggling with a mixture of kart balance and engine dramas. With all this behind him, Sera hopes to reignite the form that saw him win eight of the opening ten races in the series.
"It was put the icing on the cake to win a KZ2 Australian Championship. The class is seen as the pinnacle in karting and having finished second previously, I want to make sure I can etch my name onto the Jon Pizzaro trophy."
In the lead up to the event, Sera will embark on a couple more test days to fine tune the chassis setup and be fully prepared for when the interstate drivers arrive into Melbourne.
All the racing will be captured and shown live online through www.karting.net.au